The electric bike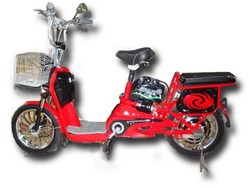 The electric bike CRONIMO is a great vehicle for convenient transport and effortlessly.
The electric bike CRONIMO is specific in that it does not need to pedal. Electric Bike works on electric power that drives round to the flat terrain and uphill. In the case of steeper hills and larger mass loading is needed to help elektrokolo walked into the pedals. Without work and effort on our CRONIMO an electric drive 20-40 km by uneven terrain. The electric bike can recharge wherever there's an electrical outlet. The speed of travel depends on the terrain, maximum traveling speed of 20-25 km / hour.
Length charging elektro battery is 6-8 hours.
The indisputable advantage is its economical electric operation, 1 km traveled on an electric works out to about 10 cents.
Another big advantage is that you do not have a driver's license to ride on an electric.
Electric bikes are modern and environmentally friendly means of transport, since generate no exhaust fumes or noise. Electric bikes are suitable for all ages.
Length charging elektrobaterie is 6-8 hours.
It is not necessary driving license and license plates!
| Weight | Getting there | Engine | Battery | Price with VAT |
| --- | --- | --- | --- | --- |
| 40 kg | 20-40 km | 250 W | 48V / 12AH | 444 EURO |
Product Video