Mulcher for quad BCQ-120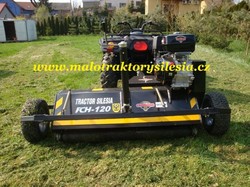 Shredder for ATV, mower for ATV, MODEL BCQ-120
Mulcher on a large area. Crusher crushes when mowing vegetation - vegetation into small pieces. You leave the cut surface as fertilizer. Hammer crusher is an excellent tool for reclaiming overgrown wild areas, turf areas, etc. This mower will make your quads machine to something .. Hectares Mow the grass will now be easy and fast. Suspended mower for quad with its own petrol engine 18 hp (four-stroke). Cutting height adjustment from 20 to 200 mm, towing connection to any device with a ball diameter of 50 mm. Of course there are no protection frames to ensure safety while mowing. Connection via hitch-ball standard European dimensions. The possibility to exchange hammers for Y knives, depending on the type of minced prostate cancer. Weight 235 kg. CE certificate.
ATV mower 18 hp PRICE - 1390 EURO with VAT. (With motor)
Operating result mower is dependent on the engine!!
18 horses and more ideal performance.
Not only 13-15 horses.
VIDEO
Motor 18 HP! (IMPORTANT) cutting width 120cm, curtain ISO-50, width-175 cm, weight 235 kg.