Pellet stove with hot water exchanger, pellet stove CR07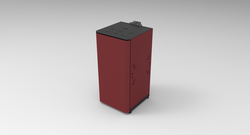 Now newly on offer:
Stove for connection to the heating system
Indoor pellet stoves with a hot water exchanger enable the stove to be connected to the heating system. The heat exchanger for pellet stoves is used to heat hot water. Hot water stoves with an exchanger are most often used for heating a family house or holiday cottage. The stove heats into the air at the place of installation of the stove and into the water through the heating medium in the central heating system. Thanks to this, it is possible to heat the room with the stove and at the same time the radiators of the room on another floor. Nowadays, they replace the boiler in the boiler room.
Pellet stove (pellet boiler) with hot water exchanger CRONIMO CR07

Wifi module included in the price!!
A very efficient way of heating thanks to new types of pellet boilers - it can be included among the advanced economical ways of heating family houses, apartments, companies, warehouses, hotels, boarding houses. Thanks to its economical dimensions, the large pellet hopper can still be used as an indoor stove.
Product Specifications:
Model CR07
Heating type:  Water heating
Heating power: 24 kwh
Rated electrical power: 360 wh
Power supply: 230V/50Hz
Maximum heating area: Entire building
Water circulation: 150 l/h
Working pressure 2.5 bar
Container capacity: 35 kg
Required pellet size: ø6-8mm, length: 10-40mm
Heating efficiency 90%
Pellet consumption 0.5~4.9 kg/h
Air supply pipe size ø 50 mm
Air outlet pipe size ø 80 mm
NW/GW 153/170 kg
Product size (W*H*D) 536*1129*561mm
Package size (W*H*D) 580*1280*610mm
Quantity in 20"/40"/40"HC * / 150 / 152 pcs
Corss flow built-in fan Yes
Minimum/maximum noise level (DB) 42 / 56 DB
Installing a water pump - Yes
Automatic water refill - Yes
Remote control - Yes
Price with VAT 59.990,-