Overload coupling
A safety, overload coupling is used to protect the accessories as well as the tractor and the tractor. (actuator, friction coupling)
This coupling also serves as an extension of the cardan shaft (cardan) by 10-15 cm.
The overload coupling is an important part of the machine used as protection against overloading or jamming of the connected accessory (chippers, mulch, etc.) It is attached to a cardan or directly to the tractor's outlet shaft and can prevent recoil into the tractor gearbox (it slips in case of overload that is above the safety torque value). 
In the joint there are in rows (number of rows according to the required Nm) after 8 pins on the spring which, in case of overload, will allow and the coupling skips. The main importance is this safety element on the cardan shaft in machines that have a great recurrent force (when mulching and mowing) or in machines where the machine may be jamming immediately (for fission).
This safety clutch should be made by any wise farmer who wants a really well and long-working tractor.
Overload couplings from safety torque 400 - 2000 Nm.
Type        Torque (Nm)          SPLINE (PTO connection)         L (mm)          L1 (mm)           L2 (mm)             Price excl. VAT / incl. VAT
CAS1         400                     1" 3/8 Z6 (35 mm, 6 teeth)            135                   24                   38                     38 / 46 euro
CAS2         800                     1" 3/8 Z6 (35 mm, 6 teeth)            155                   24                   38                     48/ 58 euro
CAS3         1200                   1" 3/8 Z6 (35 mm, 6 teeth)            158,5               17,5                 38                     59/ 71 euro
CAS4         1600                   1" 3/8 Z6 (35 mm, 6 teeth)            180                   20                   38                     72 / 88 euro
CAS5         2000                   1" 3/8 Z6 (35 mm, 6 teeth)            135                   24                   38                     90/ 108 euro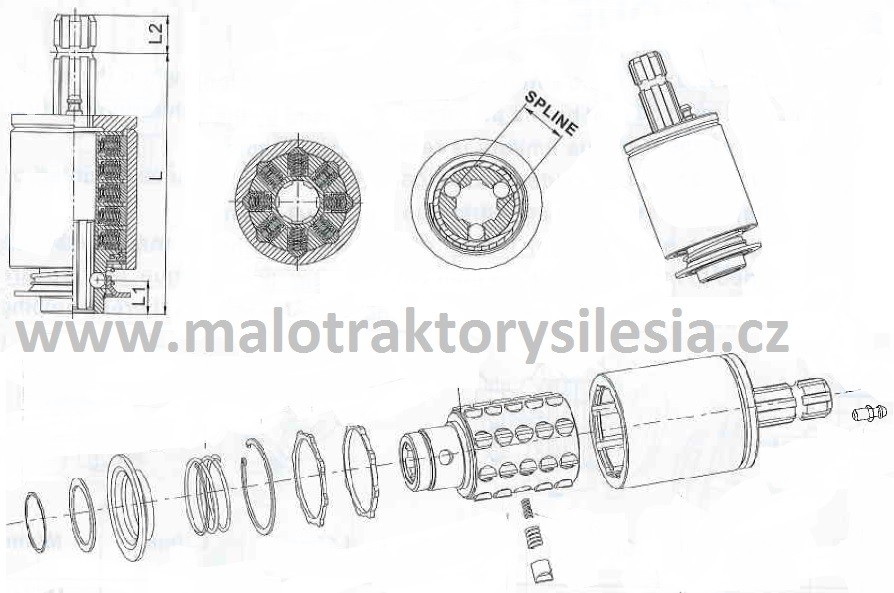 Poptávka na zboží