Three-point linkage Kubota, three point iseki, Yanmar
Three-point hinge, tractor three-point hinge.suitable for tractors with engine power 9,5-16 hp.
Eg: KUBOTA,ISEKI,YANMAR,SHIBAURA,TK-14,WISCONSIN, JohnDeere etc...
PRICE INCL. VAT      75 EURO
Also in stock 3 spot curtains suitable for:
20-30 horse tractors -price- 250 EURO incl. VAT
30-50 horse tractors -price-291 EURO incl. VAT
BALL joints for three-point hinges cat.1
It is also possible to buy spare ball joints for three-point hinges with a pin diameter of 22 mm. Spherical joints of the zinc treatment in our offer are for three-point hinges category 1. Ball joints are used for cooking.
PRICE INCL. VAT   7.5 EURO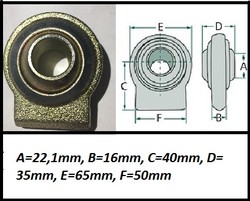 Tříbodový závěsy za traktory a malotraktory 
Poptávka na zboží