Mulcher CRONIMO FME145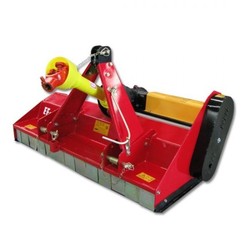 Mulcher is a versatile machine suitable for surface grinding (mulching grass, leaves, tall and dense weeds vegetation), crushing vines in the vineyards, crushing potato stalks, corn and sunflower residues, cleaning of parks, sports fields, public green areas and city.
It is powered by a cardan shaft that connects the shaft of the drive mechanism of a tractor and mower. This mower is equipped with freewheel.
Mower FME-125 can be combined with all types of tractors equipped with three point linkage. Recommended tractor power is 25-35 hp.
Cardan included.
Model
FME145
Dimensions (D x W x H in mm)
1550x687x722
Weight (kg)
190
Working width (mm)
1429
Operating performance (m2 / h)
4300-11400
PTO (r / min)
540
PTO dimension
6 x 8 x 800 mm
Required power (HP)
25-35
Spare hammers or knives Y stock.
PRICE WITH VAT 930 EURO
Poptávka na zboží